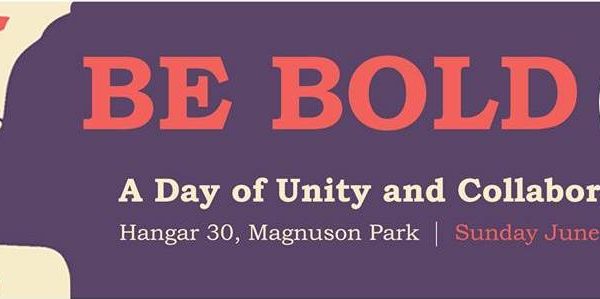 Public · Hosted by Seattle Chapter, National Organization for Women
Join Seattle NOW and the WA State Women's March team, at BE BOLD NOW.
Be Bold NOW features over 75 local nonprofits who serve women and girls, people of color, immigrants, refugees, the LGBTQ community, the Environment and other marginalized groups. Attend to learn more about how these organizations are creating positive Change in the world. Many will provide opportunities for Direct Actions that you can do while at the event and in the future.
DIRECT ACTION: Bring the following items to Be Bold NOW to donate to the following non-profits:
Dignity for Divas: delivers Diva Survival Kits of personal care products to homeless women living on the streets of Seattle. What To Donate: shampoo & conditioner, soap, tampons/pads, toothbrush & toothpaste, new washcloths, hair comb/brush, makeup, lip balm, body lotion, cotton swabs.
Facing Homelessness: is building a new awareness about our relationship to homelessness and to each other. What To Donate: socks, new or gently worn shoes/sneakers/boots, blankets, tents.
Food Bank TBD: distributes free food to people in need. What to Donate: non-perishable food items.
Be Bold NOW also includes a film fest, music and spoken word performances, a pop-up Art Gallery, workshops on lobbying and activism, a Serenity Spa (for those of you who need a well deserved rest and time to recharge), food and drinks, and more!
Our objective is to inspire attendees, to BE BOLD NOW and take action that truly creates change for women and girls here at home and around the world. You'll not only be inspired by the amazing organizations and people you'll meet; but you'll also learn how YOU can be BOLD NOW and take action to create the change you wish to see in the world.
YOU MUST BUY OR RESERVE A TICKET to attend! Those <21 years of age get in for FREE. We also have a limited number of FREE tickets available for those who are unable to pay the $10 – $50 entry fee. Seattle NOW and the Seattle Women's March will split any additional contributions that you choose to donate, and the money will be used to create future activist and community events in the Seattle metro area.
PARTICIPATING NON-PROFITS: (more being recruited, if your organization is interested in tabling, contact Tracy Klinkroth tracy@chickchat.net):
Cascadia Now
Chef in the Shelter
Crooked Trails
Days for Girls
DAWN
Dignity for Divas
Facing Homelessness
Girl Scouts of W. WA – West Seattle Troop (will be selling their cookies!!)
Health Care for All – Washington
Highway Construction Industry
IRC (International Rescue Committee)
Jubilee Women's Center
League of Women Voters
Moms Demand Action
The Mona Foundation
New Beginnings
Project Feast
Protest Teas
Radical Women
Rain City Rock Camp for Girls
ReWA (Refugee Women's Alliance)
Runway to Freedom
Sahar
The Sophia Way
UPower
Urban League of Metropolitan Seattle
Washington Women in Trades
Wonder of Women International
Y-WE (Young Women Empowered)
CONNECT WITH NOW SEATTLE
Location
Magnuson Park Hangar,  7100 Sand Point Way NE, Seattle, Washington 98117
Tickets available
Tickets available at Eventbrite